7 Ways To Keep Brown Sugar Soft
Do you need some ideas on how to soften that hard chunk of brown sugar in your pantry? I have you covered with seven ways to soften it. Have you opened a bag or container with brown sugar and it has some large chunks and you can't scoop out the 1/2 cup you need? Well here are seven easy ways to soften it.
White sugar may get a few chunks but they break up fairly quickly, unlike brown sugar.
7 Ways To Soften Brown Sugar:
1. The Brown Sugar Saver: it's a ceramic disk that you soak for about 15 minutes and pat dry and place it in your brown sugar container. This will keep it soft for up to 3 months when kept in an airtight container. When it hardens again, then you re-soak the ceramic piece for 15 minutes, you then pat it dry and place it back in the container! Love this!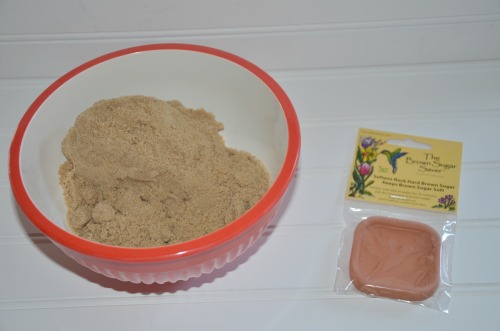 I put the disk in the container and put the lid on for about 4 hours. I then removed the lid and started breaking up the chunks with a fork, easy peasy, it just started crumbling. Yep, I got rid of the large hard chunks. I LOVE this!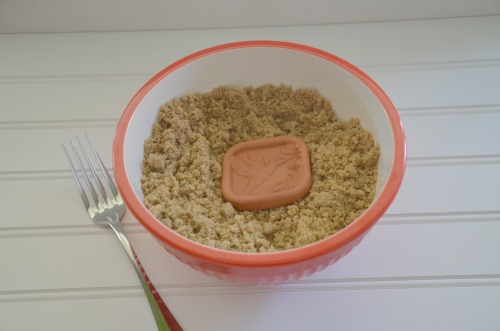 2. You can microwave the brown sugar with a small bowl of water next to it while the water is steaming. Be careful not to melt the sugar. Check it every few seconds. It's good to go almost instantly.
3. Place a few small chunks in your food processor….keyword…small! Use the Pulse or chop button. It will break them up enough that you could then measure it a lot easier. Please do not overload and burn out your processor.
4. Put a few apple slices in the brown sugar container overnight and remove them the next day. It's ready to use!
5. Place a slice of bread in your container overnight and remove it the next day.
6. Marshmallows work as well, place a few in the container overnight and remove them when softened.
7. You can also freeze it and thaw it when needed. This wouldn't work for me but if you only use small amounts this is a great idea.
I try to store mine in FoodSaver Bags or large buckets with the unopened sealed bags inside. It just seems that every time I need some brown sugar it still has the lumps or chunks, my favorite solution is the ceramic disk. This is the one I have: JBK Hummingbird Terra Cotta Saver
If you have tips on keeping your brown sugar soft, please let me know and I will add this to this list. Thank you!!
New tips from readers:
Emily: Since I have discovered Lock n Lock containers I have no more lumps or hard brown sugar. These containers are air and bug tight. Finally….after all these years of messing with apple slices, terra cotta discs, etc.