50 Back To School Lunch Ideas We Can All Use
Can you use 50 back to school lunch ideas? You can use these suggestions whether you home school or send your kids to public school. Sometimes we just need a few new ideas for school lunch. It's that time of year when a lot of families are putting lunches together for school, and so I decided to add a little twist today. I was down in California visiting my daughter, Allison and we were talking about school lunches, school clothes, etc. I also had been talking to my daughter, Heidi about her kid's school lunches. We laughed about my husband getting a Miracle Whip and lettuce sandwich made by his mom to take to school back when he didn't like cheese. Yes, you read that correctly!!!
Here is something I came across after doing some research when my daughter Heidi told me about some compartment lunch containers I should look into. The one shown below is an NUK Fresh Foods Freezer Tray with lid. I think I paid about $8.00 for it at Walmart in the baby section. It's dishwasher safe and you can even freeze stuff like baby food in them. You cannot microwave food in it. I am thinking about freezing herbs with a little water in them as well. Today though it's all about school lunches.
The first nine items below are the foods I chose for one of my cute neighbors, Lexie to take in her school lunch with this cute reusable container. Later, I called to interview her to see how the lunch container worked. She did remove the ranch dressing because it was leaking, but she said the lunch stayed cold and she enjoyed the different food items. LOVE it! Thanks to Lexie for being my tester on this. Here is another choice for lunch box containers: EasyLunchboxes 3-Compartment Bento Lunch Box Containers, Set of 4, Classic
. I found this one as well: Yumbox Panino (Lavande Purple) Leakproof Bento Lunch Box Container for Kids and Adults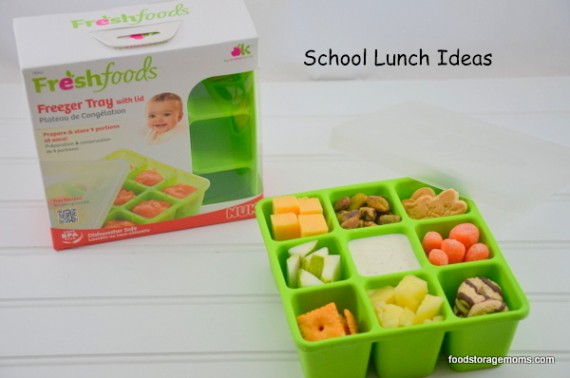 50 Back To School Lunch Ideas
1. cheese cubes
2. pistachio nuts
3. animal crackers
4. zucchini strips
5. ranch dressing (**warning-please put in separate container)
6. carrots
7. cheese crackers
8. pineapple cubes
9. mini cookies (yep I have a sweet tooth)
10. freeze dried peas
11. fresh peas
12. freeze dried corn
13. fresh corn
14. freeze dried green beans
15. fresh green beans
16. freeze dried strawberries
17. fresh strawberries
18. freeze dried bananas
19. fresh bananas
16. freeze dried mango
17. fresh mango
16. freeze dried grapes
17. fresh grapes
18. freeze dried cherries
19. fresh cherries
20. freeze dried pineapple
21. freeze dried apples
22. fresh apples
23. turkey cubes/strips
23. chicken cubes/strips
24. almond butter
25. peanut butter
26. mini muffins
27. croutons
28. homemade pizza bites (pizza cut into small bite size pieces)
29. pudding
30. finger Jello (gelatin)
31. fresh broccoli
32. sandwiches cut in cubes (peanut/almond butter and jelly)
33. cherry tomatoes
34. bell pepper strips (green, red or yellow)
35. ham cubes
36. mini soft flour tacos (you make yourself)
37. mini bean burritos (you make yourself)
38. salsa (**warning-please put in separate container)
39. tofu
40. yogurt (**warning-please put in a separate container)
41. boiled eggs
42. celery sticks
43.  sweet potatoes chips
44. cottage cheese (drain the liquid)
45. popcorn
46. fruit dip  (**warning-please put in a separate container)
47. cauliflower
48. rice
49. rice cakes
50. cantaloupe/watermelon/honeydew
Let me know what other items you like to add to my school lunch list…..I will add them! You can add a spoon or fork and place the container in an insulated lunch box or bag. Oh, and of course a cute napkin with XOXO written on it!
CJ just sent me these ideas! Thanks so much!
51. pickles
52. cucumber slices or strips
53. Rice Krispy treats
54. a small scoop of pasta salad
55. a small scoop of whatever is leftover from dinner