I just had to write this post today about how to make your own emergency car kit. My two daughters and one son-in-law had driven up to Park City, Utah for a quick visit with friends a few days ago. The weather was beautiful with the sun shining on their way up Parley's Canyon, one of the main east/west routes through Utah on I-80. Here's the deal about this particular northern Utah canyon, it can be brutal in the winter with ice and layers of frozen snow.  At times, cars and trucks slip and slide going up the canyon if they don't have snow tires, tire chains or 4-wheel drive as the local agencies try to keep the road clear during snow storms. Of course, those that are prepared with tires, chains or 4-wheel drive are sometimes dodging those cars that have trouble driving in severe snowstorms. If you are driving down the canyon it doesn't matter what your car is equipped with, it can sometimes be an ice skating rink with cars sliding everywhere. Once you start to slide, your breaks will not work if it's really icy. Most of us who drive in bad weather know we need to gear down and slow down, but sometimes there is no way to slow down once the sliding starts. I call it white knuckle driving. Mark has no fear driving in the worst of the worst weather.
This particular day my family made it up the canyon in beautiful sunny weather, but on the way down a truck further down the canyon ahead of them had a fire problem and the resulting chaos stopped traffic for almost two full hours. I'm sure you have probably gotten into your car to drive a short distance and sometimes the traffic stops, I mean to a dead stop. This happened to them on their way home, and what should have been a 15-minute trip during the canyon phase was much longer than anyone could expect. Now, there is no way to turn around in most sections on this I-80 Parley's Canyon Highway. No stopping allowed on either side of the road. It has a barrier about 4-feet high going down the center of the highway in many places so once you start driving down the road, you have to go to the next exit.
I have to give a shout out to my son-in-law for filling the gas tank before heading up the canyon. Whew, it was hot that day, at least they could run the air conditioning. If it were the winter they would have had to run the car's heater to keep them warm. It's all about being prepared. The main challenging thing, they had no water in the car. Luckily it was only two hours sitting at a near standstill.
This is when my Emergency Car Toilet would have been great in an emergency car kit. All you need is an empty #10 can, filled with the items on the post I wrote. You would be good to go, literally.
Emergency Car Kit
I have three of these bags that I made into a car kit for emergencies and they are secured in the back of my Honda CRV. I love these Husky Tool Bags.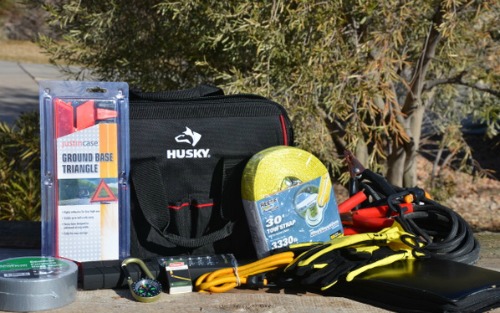 Water
Food/snacks
Emergency toilet with  toilet paper, garbage bags, and hand sanitizer
Diapers, these are awesome to help a young family who may be on a highway stopped for hours with a baby or a toddler.
Depends, you may have to relieve yourself in one.
Contact information, please be sure and put ICE (in case of emergency) in your phone so the highway patrol or others can contact your family if you are unable to call anyone. If you don't have a cell phone, write the information on 3-inch by 5-inch card that is laminated to keep it waterproof.
Blankets
Jackets and wool socks
Foldable shovel
Can or two of motor oil
Fire Extinguisher (ABC type)
Flares/Cones to let people know your car is out of gas or broken down.
Flashlights, please rotate batteries
First aid kit
Tools
Rags/Paper towels
Jumper cables
Tire gauge
Pocket knife/scissors
Window scraper for ice or snow
Duct tape
Emergency cash (small bills)
Bungee cords
Tow rope
Compass
Matches
Spray bottle with washer fluid
1 gallon of coolant
Baby wipes
Car window break tool (thank you, Charla)
Poncho/rain gear/change of clothes (thank you, Kay)
Umbrella (thank you, Kay)
A sturdy pair of hiking/walking shoes and socks (thank you, TC)
A 12-volt air compressor, work gloves,  a tire plug set (buy them cheaply at Walmart), emergency repair tape – self-fusing silicone tape (thank you, Todd S.)
Tarps. A 5×7 and 8×10. Lay the 5×7 on the ground while the larger tarp provides cover for changing a tire in the rain/mud. Of course, they're so useful for basic shelter if you had to exit your car to hoof it. (thank you, Todd W.)
I saw it snow on the Fourth of July in Amarillo. I left home one beautiful morning in February horseback and as I started home that afternoon a blizzard hit. I had 10 miles to ride in a short sleeved shirt. I have carried a jacket or coat with me ever since, horseback or in a vehicle. The poncho is probably a very good idea, as well as the change of dry clothes. (thank you, Mike)
Your car typically comes with a jack, but make sure your car kit ensemble has everything you need. Don't be caught without a spare tire. Let me know the things you like in your emergency car kit, let's make this list really long, depending on where you live and the size of your family. Thanks again for being prepared for the unexpected.
This post may contain affiliate links, including Amazon.com. Using links to these sites means I may earn a small percentage of the purchase at no extra cost to you.
Follow Me In Social Media: