Today it's all about why you need to have a first aid kit for kids, grandkids, etc. I don't know about you, but it seems whenever I have my kids or grandkids here someone gets hurt. It might be a scratch, a bee sting or a cut. Sometimes the kids have a fever or a cough. We are pretty lucky they do not get sick often but it's nice to know I have "stuff" in the cupboard to soothe or comfort them. I also use essential oils big time and Silver Solution from My Doctor Suggests. I realize every family is different and may or may not use certain products, I get it. I just want you to rotate what you do have in your cupboards for cold or flu symptoms and have them available if all your local stores and pharmacies are closed. Or if you have to be evacuated, put this item on your "to grab list" for such emergencies should they arise.
I remember talking to a family who was evacuated a few years from their city and their baby had a fever and the power was out in the town. They drove to a nearby town to stay in a motel to keep their baby safe from the cold. They needed some fever reducing medicine and luckily the mother had some items in her "diaper bag" to soothe the baby.
I decided to put together a Children's Medical Kit with a two layer plastic container I purchased at JoAnn's Craft Store. Of course, I used my 40% off coupon so the kit was very affordable. My daughter does vinyl lettering so I asked her to make me the set you see on the container. A Magic Marker would work too!
First Aid Kit For Kids: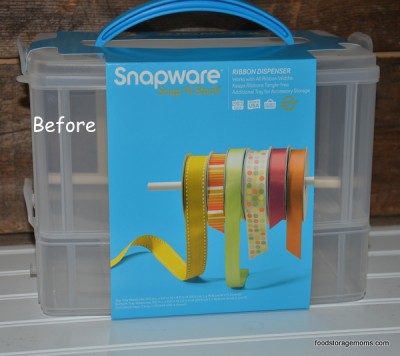 Kids First Aid Contents: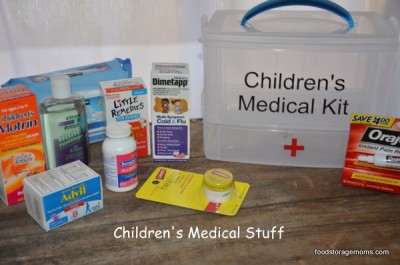 This one I will keep in the hall closet so it is ready to grab and let the kids choose their favorite band-aids when needed. I tried to gather the most important things we might need if we are unable to go to the store. I am adding a thermometer to the kit as well. I want to be prepared for the unexpected if the pharmacies are closed or the weather closes the roads from extreme weather conditions. I guess you can call me Nervous Nellie. Please let me know what items you would add to your children's first aid kit I would love to hear. May God bless you and your family.
My Favorite things:
Snapware Snap 'N Stack 6-Inch by 9-Inch Plastic Container
AAA 85 Piece Commuter First Aid Kit

American Red Cross Website.