Here are 6 Different Healthy Salads For 6 Days. I made these salads in about one hour. I washed, chopped and threw them together. I took a class from Chef Brad and he showed me how to use different flavored olive oils and balsamic vinegars. My husband and I are really trying to eat healthier….trying is the keyword. I call it baby steps to eating healthier.
Salads, Salads, Salads:
Salads, salads, salads. I basically grabbed 6 clean quart mason jars. I chopped the freshly washed lettuce (into small pieces-not torn) because I love chopped salads. I grabbed freshly washed celery and chopped one whole bunch into bite size pieces. Next I cut two different washed and cleaned out bell peppers, yellow and red (red and yellow are sweeter) into bite size pieces.  I washed some grape cherry tomatoes and drained them. I cut washed and shredded 1/4 of a head of cabbage and drained. I washed and sliced some carrots. I washed the spinach and drained it as well.
Then I started layering:
1. mandarin oranges, drained, spinach, craisins and dehydrated apples.
2. cabbage, dehydrated bananas and strawberries.
3. celery, carrots and spinach.
4. grape tomatoes, celery, yellow bell peppers, lettuce.
5. grape tomatoes, celery, red bell peppers, lettuce.
6. same as #5, grape tomatoes, celery, red bell peppers, lettuce.
Now comes the fun part…..Chef Brad told me about Redstone Olive Oils & Balsamic Vinegars. You can put these on grains, salads, etc. His blog: Chef Brad!Here are just a few of the flavors he suggested for my veggie and grain salads. Check out his blog for the flavors that look good to your taste buds!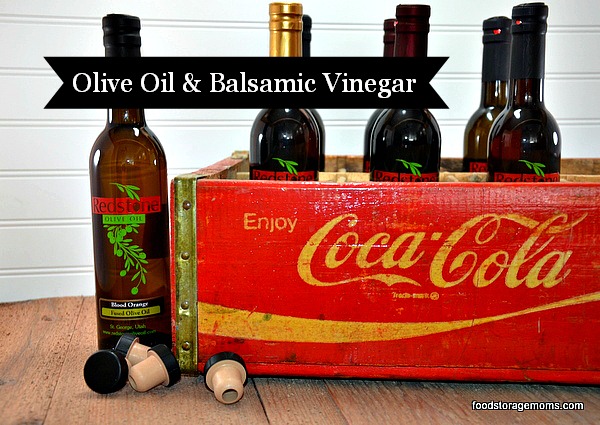 This is a Coca Cola 12 pack container I purchased at an antique store a few months ago….it was pretty cheap! I have been waiting to save enough money to fill it with olive oils and balsamic vinegars and place it in the middle of my table! Seven bottles is a good start. One really awesome thing is Redstone refills your Redstone bottle for less than the original cost if you bring your original bottles in….
If you use a FoodSaver you can extend the life of the "greens" for almost 10 days longer. It all depends on how fresh the veggies are when you chop and fill the jars.