Hi, my name is Kristin and I blog over at Dizzy Busy and Hungry! I am excited to be participating in this blog swap meet today! Many thanks to Linda for swapping with me. Her post is on my blog and my post is on her blog! We hope that our wonderful readers will enjoy this little variation from our regular postings!
The theme for this swap is "Halloween Party Treats". Halloween is such a fun time of year. I have been spending WAYYYYY too much time on Pinterest admiring all the Halloween treats and decorations that everyone is creating. So many people have so many great ideas!
The idea for this Halloween treat actually came from a dessert that we had during our vacation this past summer. Every year we pack up the family and head to a YMCA family camp, where we get to spend a week appreciating the outdoors and participating in a ton of family-oriented activities. The kids love it and it is a wonderfully relaxing environment. One of my favorite things about it is that all meals are served in a dining hall, family-style. I do not have to cook AT ALL! What a wonderful break for me!
In any event, one evening they served a dessert that was an orange/marshmallow/whipped cream concoction, and it was so delicious! I have based my creation on that dessert, and added mini chocolate chips to get that orange and black Halloween look. Even though the color is orange, there is no pumpkin involved, which is great for kids who don't care for pumpkin! And it is a good way to get some fruit into the kids as well. They don't even realize they are eating mandarin oranges!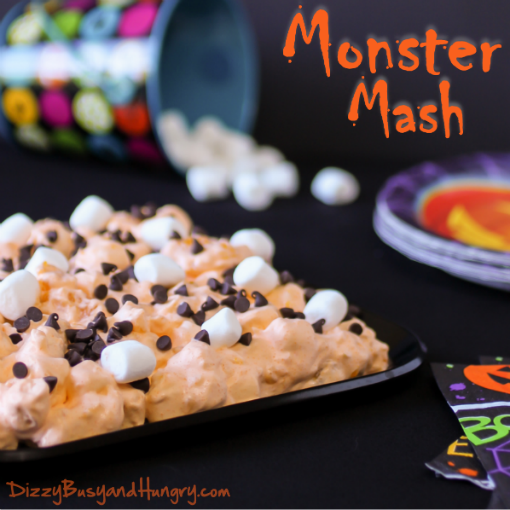 Monster Mash
Ingredients:
1 (8 ounce) container of Cool Whip (can be light or fat-free, if desired)
1 (.44 ounce) package instant orange Jello (can be the sugar-free version, if desired)
1 (15 ounce) can mandarin oranges, drained and roughly chopped
4 to 4 and 1/2 cups mini marshmallows (reserve a handful for garnish when serving)
1/4 cup mini semi-sweet chocolate morsels
Instructions:
In a large bowl, combine the Cool Whip and the packet contents of the instant Jello.
Add the mandarin oranges and the mini marshmallows and mix well.
Refrigerate until ready to serve.
When serving, spoon the Monster Mash onto your serving dish, then sprinkle with the mini morsels and reserved mini marshmallows.
Thanks again to Linda for swapping posts with me! Please feel free to stop by my blog (Dizzy Busy and Hungry) and see what else I have cooked up lately!
Enjoy, and Happy Halloween!
Thanks so much for sharing Kristin, I want to make this NOW! You are awesome!
Below the collage are links to all of the posts that participated in our Blog Swap Meet: Halloween Party Treats!
Stop by and visit them all!
Food Storage Moms posted on Dizzy Busy and Hungry
Dizzy Busy and Hungry posted on Food Storage Moms
Craft Dictator posted on If You Can Read You Can Cook
If You Can Read You Can Cook posted on Craft Dictator
Confections + Coffee posted on Honesty's Protegee
Honesty's Protegee posted on Confections + Coffee
Soda Pop Avenue posted on Cynfully Wonderful
Cynfully Wonderful posted on Soda Pop Avenue
Cooking the Recipe posted on Creative Southern Home
Creative Southern Home posted on Cooking the Recipe
Mammy2Grammy posted on Crafty Meggy
Crafty Meggy posted on Mammy2Grammy
Follow Me In Social Media: