12 Places to Hide Important Items in Your Home
On average, over 2.5 million homes in the United States are burglarized every year. Most of us don't like to think about that statistic, but that's not going to stop it from happening. I can also guarantee you when a thief breaks into a home, the first place that they're headed to is the master bedroom to gather their plunder. The picture above is the front yard of my home with my two dogs, Izzy and Bailey, looking at me with the look of "what are you doing mom?"
That's because many homeowners make the mistake of hiding all of their valuables and important documents in the same room where they sleep. Check out these places to hide important items in your home.
Places to Hide Important Items in Your Home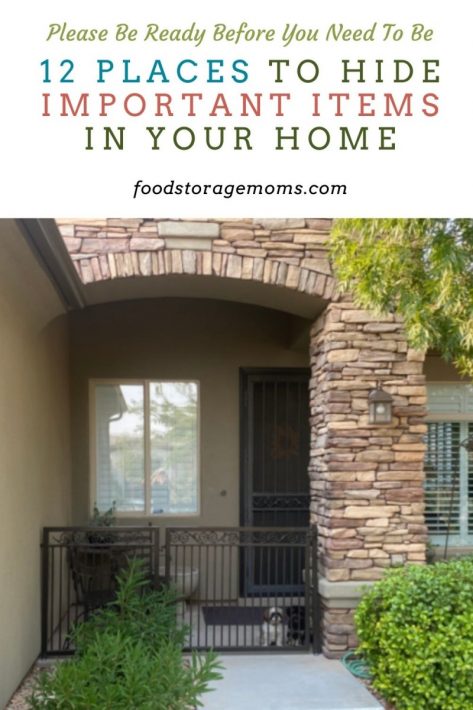 Heaven forbid if someone were to ever break into your home, but wouldn't it give you at least some satisfaction that the thief left your house disappointed? It's time that we get smarter than these criminals, by limiting the loot that they wander off with. You can do this by hiding your belongings in places that they would never suspect. Here are 12 places where you should consider hiding your important items in your home.
1. Kitchen Pantry
Your kitchen food pantry offers you a treasure trove for places that you can hide your emergency cash and other important items. After all, why would thieves want to squander precious minutes by searching through your kitchen pantry for a bite to eat? Many homeowners use the coffee can in their pantry to store important items, but you can also use an empty food can with the lid put back on top, or hide items at the bottom of a healthy box of cereal that you know your family would never touch.
2. Empty Paint Can
A thief would never think about picking up one of your old paint cans, unless they're considering doing a little bit of painting and house remodeling themselves. (Trust me, they're not.) This is why storing your valuables in an empty paint can that's sitting amongst several others is a good option.
3. The Backside of a Pull-out Drawer
Another sneaky place to store your important items is on the backside (not inside) of one of the pull-out drawers in your kitchen. Even when the drawers are pushed all the way in, there's usually a bit of extra space for you to take advantage of. All you need to do is duct tape an envelope with what you're hiding inside.
4. Underneath the Soles of Old Sneakers
Do you own an old pair of shoes that you never wear, but you've never seemed to give up on? Put some of your emergency cash beneath the soles of one or both of them. Just don't forget that you've hidden it there.
5. Bins For Out-of-Season Clothing
A thief also isn't going to spend any time rummaging through your clothing storage bins that are marked with out of season clothing. Why would they, unless they're thinking about adding to their own wardrobe for next year? Go ahead and bury a smaller container of your treasures beneath several articles of clothing for the perfect hiding spot.
6. Fake Plumbing Pipe
If you're looking to get really clever by outwitting a thief, consider installing a bit of fake PVC piping along with a cleanout plug down in your basement. Trust me, that's the last place that a crook will want to look for your valuables.
7. Family Album
It seems like we seldom look in the family album at old pictures. Which is why it's a great place to store some of your emergency cash.
8. Put Valuables in Suspended Ceiling Tiles
A lot of finished basements have suspended ceiling tiles that are ideal for hiding important documents, cash, or jewelry. They're usually out of reach unless a thief was to take the time and grab a step stool and check each one. Just make sure that it's nothing that is too heavy and that you use a plastic container or a filing accordion to protect them.
Please keep in mind, if the items you're trying to hide are very valuable, you should strongly consider a very heavy safe that could not be removed from your home without a lot of work. Better safe than sorry. Also, those items you seldom use that are really valuable could also be placed in a safety deposit box at your bank. Not convenient to access, particularly during off business hours, but very safe.
9. Children's Bedroom
When a burglar comes across a child's bedroom, most times they quickly move on towards the master bedroom while thinking that's where they'll strike gold. (Unless your kids have some pretty expensive toys lying around.) Find a place in your child's bedroom where not only a burglar, but also your children would never bother to look.
10. The Leg of Your Ironing Board
Even your ironing board can be a great and convenient place to hide a wad of cash. Simply pull the cap off of one of the legs, and you'll be wondering why you didn't think of this sooner. Just remember to stuff a wad of cotton or toilet paper in first, so that your money doesn't get stuck too far out of your finger's reach.
11. Hide-a-Key Inside the Keypad
Most of us parents could probably agree that our kids are notorious for losing their house keys. Hiding a spare house key in a safe place outside will keep them from being locked out after they get off the school bus and you're still away at work. Your garage door keypad is the perfect place to hide a spare key, just behind the battery.
12. Keep a Treasure Map
Having several different hiding spots for important items throughout your home is a smart idea on your part. But it doesn't do you a bit of good if you forget where you've tucked away your stash of cash, or an important document. To avoid this, you'll need to create a treasure map that will help you track down your various treasures. All you need to remember is where you've hid the treasure map.
Final Word
Have any of you ever had the misfortune of coming home, only to find that your house was burglarized? I certainly hope not. I've known friends and family who have, and they've shared about how painful and scary it was to have their privacy invaded. Where do you hide important items in your home? Oh wait, don't tell us! May God Bless this world, Linda