How To Make 12 Days Of Christmas Meals
A few years ago my husband and I started giving 12 days of Christmas Meals in bags to someone we know who can use some food storage and/or groceries. We wanted to choose someone who was having some hard times. We searched high and low for a single mom and found just the right one. As a young mother, I think she will be so thankful for some food in cans ready to just heat up for the kids after working all day. We'll place one bag on her doorstep for 12 days, hence the 12 Days of Christmas.
I am very secretive when I do things for people but I felt maybe one of my readers could use this idea for someone they know in their neighborhood. If you don't know a single parent, please think about an elderly person or couple that would love a few meals dropped off on their porch.
We spent less than $70.00 for 12 meals in bags, including one snack bag and salsa. I had to throw in some chips and salsa in one bag, yep everyone needs salsa!
I started down the aisle with canned goods. I didn't want to buy fresh food because I want the family to have some food storage or ready to eat cans of food. The shopping basket was filled with cans of food I knew small children would eat. No macaroni and cheese because we started thinking all mothers have that in their pantry.
I chose vegetables, fruit, muffin mixes, fruit juice, various canned meats, spaghetti, ravioli, etc. Here's the deal, are they the healthiest meals, no they are not. But I know this young mom will have 12 meals she can fix at the last minute after working her 10 hour days. So let's get started with my 12 Christmas Meals In Bags.
Christmas Meals:
Breakfast #1
This is an easy one with a muffin mix and some apple juice. Some muffin mixes you need an egg or two and some water. Easy peasy for any single parent or elderly person to stir by hand and put in muffin tins to bake. It's one less thing to pick up at the store and put in a pantry for future use.
Breakfast #2
This is a duplicate from above but a different breakfast muffin mix. See how easy it is to pick up a few extra boxes to share with someone, and you will totally make their day. I promise.
Lunch #1
Oh, I have to laugh at this one because my husband would love these the cans of fish. Some of my grandkids love these so I decided to add cans with some crackers and fruit. You can substitute tuna for the kippered……I would have to have tuna…just saying! Most people have some mayonnaise or Miracle Whip to make a tuna salad to spread on the crackers.
Lunch #2
This lunch is really easy. Pull the cap on top of the soup can or use a can opener and heat the soup in the microwave or a saucepan. Add some crackers and some fruit…lunch is ready in no time.
Lunch #3
Here is another kind of soup you can heat in a pan or microwave. Add some crackers and fruit…easy for anyone to do. Can you picture the person you are doing these 12 Days of Christmas Gifts for is smiling BIG time now? The first day they will think "what is this on my porch?'
Lunch #4
Okay, I have never purchased gravy in a jar, but I did for Thanksgiving because I had a smoked turkey (no drippings) and this worked great. These are canned potatoes, yep I was raised on those. I totally forgot they sold potatoes in cans. Well, I didn't actually forget….I just haven't bought them in years. Add the canned chicken to the gravy and pour over the potatoes. The fruit in the cups is a perfect side dish.
Dinner #1
I think everyone loves spaghetti, don't they? You can boil the spaghetti ahead of time and freeze it. I do it all the time. If you missed that freeze pasta post here it is. I put a bag of regular and whole wheat pasta in the bag, I know they family does not have gluten issues.
Dinner #2
I know I fed Spaghettios to my kids with green beans we canned in jars together, so I had to add this bag. Most kids love fruit cocktail even if they fight over getting the cherries. Gotta love it!
Dinner #3
This is a very easy dinner and the soup is yummy. Heat the soup in the microwave or saucepan. Make some warm biscuits and add some applesauce, dinner is ready in no time.
Dinner #4
Sometimes I just have to buy these mini ravioli. Are they healthy…probably not, but it's an easy to make dinner at the last minute. I tried to do the main dish, vegetable, and fruit for every meal.
Dinner #5
Everyone loves chili, right? Of course, homemade chili is fabulous, but a working mom loves a can opener and a can occasionally. I sometimes worry about the elderly people if they are eating okay…do you ever think about that? I know they are on limited budgets and it takes energy just to drive to the store and haul those bags into the house. Just something to think about.

My Favorite Snack
Chips and salsa, need I say more? This is my favorite all time snack.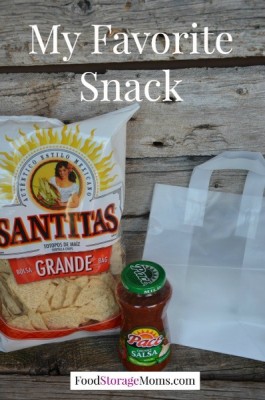 12 Days Of Christmas
If you are wondering when the 12 Days of Christmas start….it is Christmas Day, December 25th and goes through January 5th. Shhhhh…it's a secret. Happy Holidays!
If you know a single mom or dad who could use 12 Christmas Meals In Bags I hope you can use these ideas. Please share other meals with me and I will post as many as I can. I would love to give non-processed food, but let's be honest here, these are non-perishable. My idea here is to help a single mom or dad who has driven their kids to school and then headed to work.
They pick up the kids after work and take them to lessons, etc. Then they race home and need to feed the family. They need food items that are fairly inexpensive, reasonably healthy, yet pretty easy to fix. Time can be at a premium, so easy prep is the desired result. Make someone feel special, take them a surprise over the 12 day period, it will make a real difference in someone's life this holiday season.