Sport Berkey Portable Water Purifier
:  Size of a water bottle (great for 72-hour kit)
The Sport Berkey has a 50 year shelf life.
Water from any source: 160 refills
Water from Municipal Water: 640 refills
WaterBrick Water Container 3.5 Gallon BPA Free Portable and Stackable:
 Dimensions: 9″ X 18″ X 6″
Each container holds 3.5 gallons
These are stackable; 16 will fit under a queen-sized bed (56 gallons total)
They stack/interlock for easy storage as well, yet you can easily grab one and go.
Add ½ teaspoon of Water Preserver to store for five years; change water every five years.
Emergency Purified Drinking Water: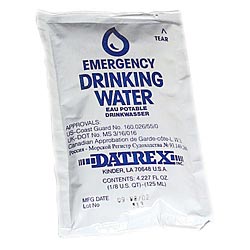 This is an envelope size "bag" of water that lasts 5 years. It's a perfect size for 72-hour kits.
These are U.S. Coast Guard approved and have a little over 4 oz. in them.
Aqua Blox Emergency Drinking Water: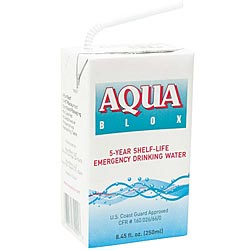 These have a shelf life of 5 years
U.S. Coast G
uard
They have approximately 8 + ounces of water in them
These would be great for a 72-hour kit
Comes in a can and has a shelf life of 30 years.
This water will survive severe conditions of extreme cold and intense heat for 30+ years.
For complete details of testing and processing information go to: www.worldgrocer.com

These come in various sizes, 15, 30 and 55 gallons. Each water barrel provides enough water for drinking, cooking, and light personal sanitation for a family of four. This amount is recommended as a minimum supply of emergency water.
Store them outside in a shady part of your yard.
Will need water treatment to be drinkable.
Adding one bottle of Water Preserver to the big blue barrel will keep the water good for five years without having to change the water