Would you love some potatoes you can cook-mash-fry-on the cheap? Potatoes are the leading vegetable crop in the United States (not including sweet potatoes), with about 15% contributing to farm sales. Over 50% of the potatoes grown are processed for french fries, potato chips, dehydrated potatoes and other popular potato products. I purchased this 20-pound bag of #1 potatoes for $5.99. Woo Hoo! Let's see how many meals or side dishes I can make with it. Start saving money today!
The fall harvest produces approximately  90% of all potatoes grown, although they are grown year round. Potatoes are a tuberous vegetable crop grown from the Solanum tuberosum. I buy certified seed potatoes and plant them in containers/pots and in my raised gardens. You basically cut the "eyes" from the seed potatoes and plant them. I will have a post showing you how to plant seed potatoes when I start my Spring planting. There is nothing better than seeing those plants start to sprout. They are really attractive plants in your garden and add to the landscape appeal.
Potatoes are pretty low calorie, it's all the stuff we add to them that gives them a bad rap. They really are good for us. They are full of vitamins like Vitamin C & B. They are really high in Potassium, Magnesium, and B-6. They have a little iron and a little calcium. A medium potato is about 165 calories. I wash and scrub all the potatoes with a vegetable scrubber and cut off the bad spots before I make any of these. Let's get started with my 15 easy ways to make some meals with potatoes.
Potatoes You Can Cook:
1. Mashed Cheap Potatoes
These potatoes are peeled and boiled in water until a fork test shows that they are cooked enough. I drain the water and add whatever I have in the refrigerator to make them creamy and fluffy. I use either milk, sour cream, whip cream, butter, and salt, then mashed with my stainless steel masher. I really like the peeled potato look, but sometimes I just don't have time to peel the potatoes, but today I did (with a little help from my husband). I must say my husband would love mashed potatoes every night…he really would! My favorite potato masher: Best Manufacturers Waffle Head Potato Masher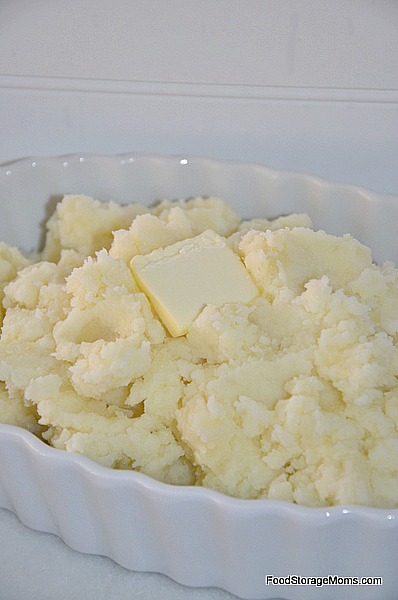 2. Dirty Mashed Cheap Potatoes
Okay, now I will show you my "dirty" mashed potatoes. Of course, you can see some of the peelings because these were not peeled. I just boiled them, drained them and mashed them with the hand masher because I like a few chunks in the dirty mashed ones! I add milk, sour cream, whip cream, butter and some salt. Fabulous to eat!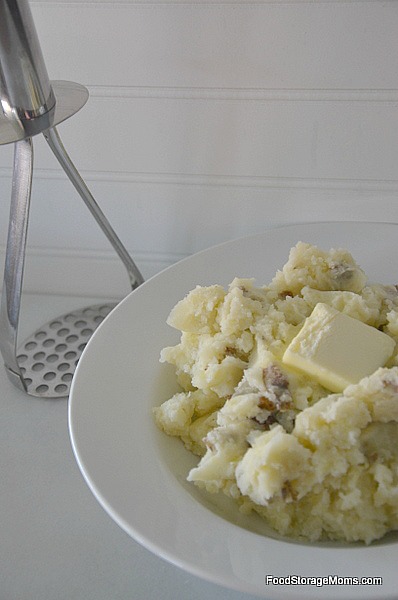 3. Nachos
I honestly could eat Mexican food every night, so I thought why not slice some cooked sliced potatoes, add some re-fried beans, grated cheese and top with sliced black olives. Add a little guacamole, sour cream, and some salsa….yummy! These really are good! Great for football games in front of the television!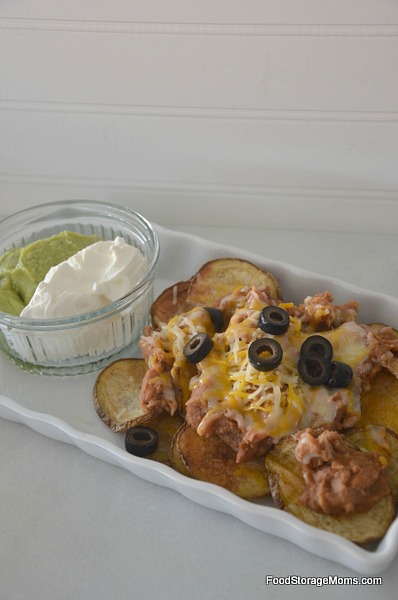 4. Homemade Hash Browns
Here you can see I grated some baked potatoes and made my own hash browns. I freeze these in baggies to enjoy later. They are so much cheaper than the frozen ones you buy at the grocery store. I thaw them in the refrigerator and fry in a little butter. No other ingredients. Healthy natural potatoes. My favorite grater: Cuisinart CTG-00-BG Boxed Grater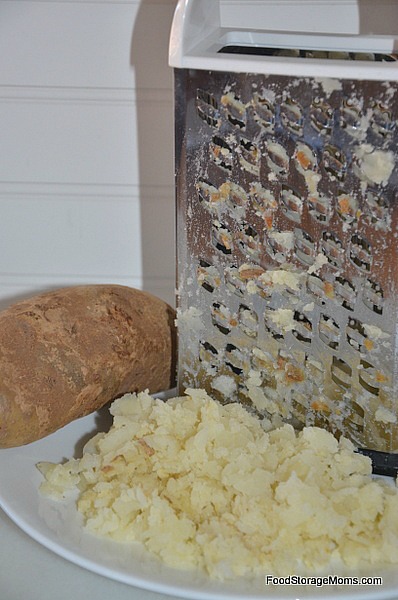 5. Steak Fries With Fry Sauce
With this recipe, I sliced the raw potatoes in wedges and placed them in a bag with a little olive oil and water. Shake the bag and spread them on a cookie sheet and bake @375 degrees for about an hour, or until cooked to desired tenderness. I used equal amounts of chili sauce and mayonnaise to make the fry sauce. Is your mouth watering yet? Mine is for sure. My grandson ate all of these over the weekend. Love that guy!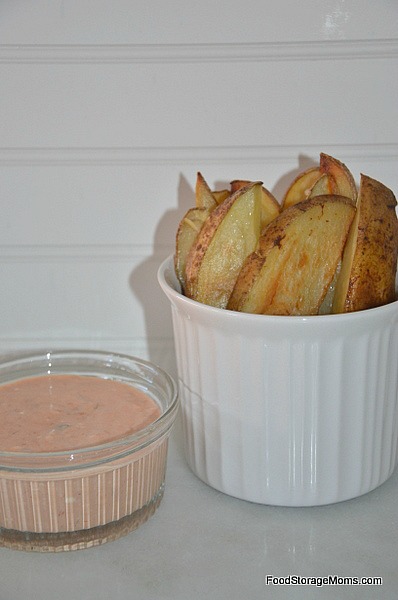 6. Potato Chips
I baked 1/8 inch sliced potatoes in the oven @375 degrees on a greased cookie sheet for about 40 minutes. I let them cool on a cookie sheet to make sure they stayed crispy. This makes for an easy healthy snack. Sometimes you just need some chips!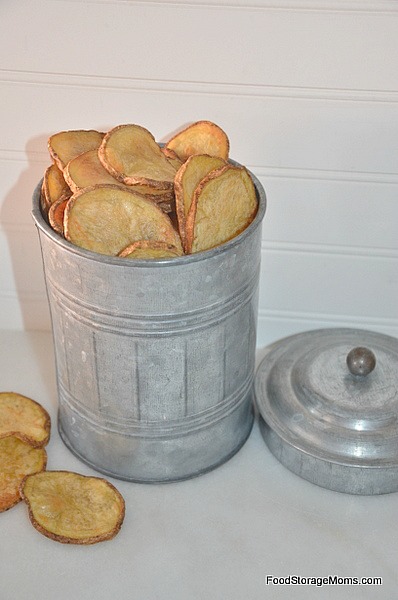 7. Stuffed Bell Peppers
I had some friends over for dinner last night and they are always willing to try my creations. I had a few different bell peppers, so I made some stuffed bell peppers with some of the mashed potatoes. Yummy! I baked them @350 degrees for about 40 minutes. Our friends loved these! WooHoo!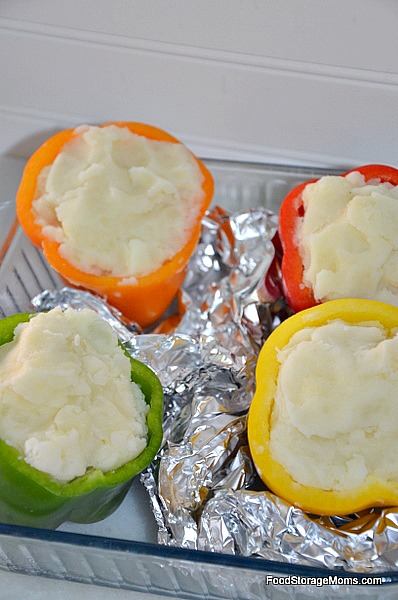 8. Potato-Turkey Wraps
Here are some whole wheat wraps spread with mashed potatoes along with some cooked turkey slices. I baked them with a toothpick to help hold them together. I baked them @350 degrees for about 30 minutes. Everything is actually already cooked, so I was really just heating them through to serve. Add some Pico de Gallo and you are set for a great meal!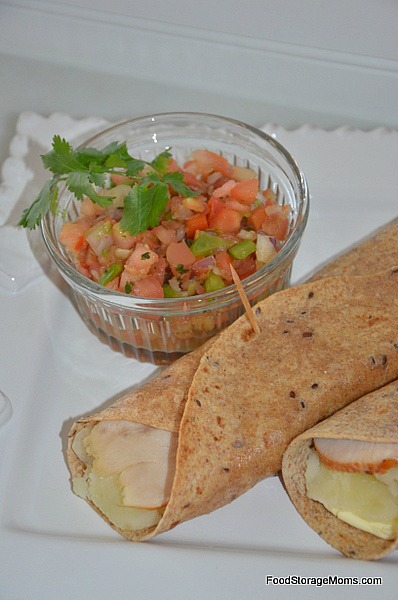 9. Mexican Potato Salad
I am sincerely trying to eat more vegetables, so I took some baked potato chunks and added black beans (drained) and corn (drained). I then added a little Pico de Gallo, cilantro, green onions and black olives. You can serve this cold or at room temperature.
11. Pico de Gallo Bites
Here I used some sliced baked potatoes topped with re-fried beans, guacamole, Pico de Gallo and black olives. Easy to make and serve. Another football game favorite snack!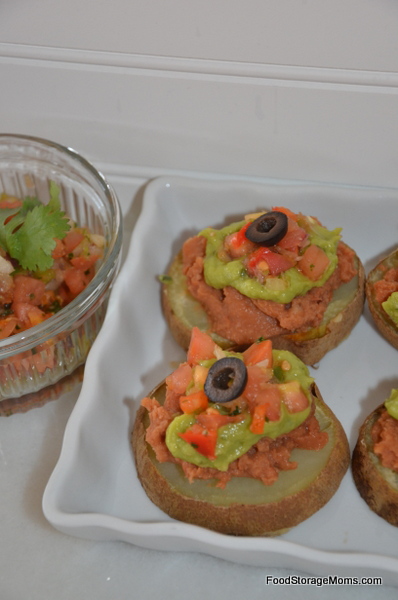 12. Potato & Cheese Quesadillas
Okay, these were going to be taquitos but the corn tortillas were too dry so they crumbled when I tried to roll them with mashed potatoes and cheese in them. So, I make quesadillas! I baked them at 350 degrees until I could see the cheese melting. I did spray the tortillas with vegetable oil because they were so dry and brittle. You could bake these on a griddle or fry pan. I think salsa or Pico de Gallo goes with most every meal!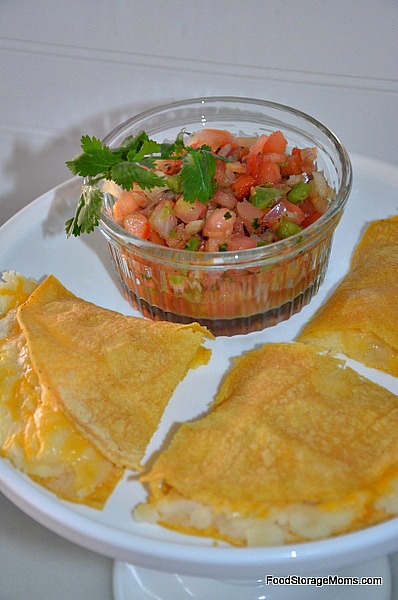 13. Heidi's Potato Chunks
These potatoes are my whole family's favorite ones. My daughter, Heidi makes them like the potato steak fries but cuts them into chunks and sprinkles them with Lawry's Salt. Bake at 375 degrees for about 40-45 minutes, or until desired tenderness. Serve with fry sauce above.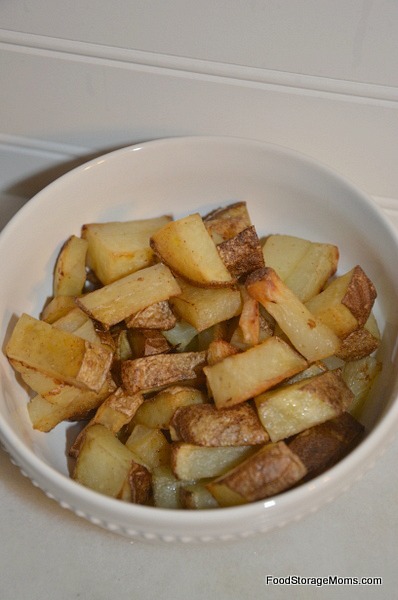 14. Regular Baked Potatoes
This one is easy because I just baked the washed potatoes. These make for an easy side dish with butter, sour cream, grated cheese and bacon bits, if desired. I have to admit I like way too much sour cream on my baked potatoes. Okay, I like a lot of butter as well. There is something about the combination of these together.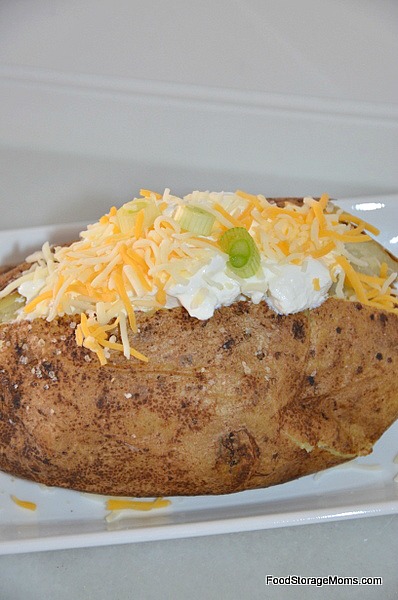 15. Twice Baked Potatoes
You can bake the potatoes covered with foil (non-shiny outside), plain or oiled and sprinkled with Kosher Salt. I poke the potatoes with a fork. I don't know if its an old wives tale but I always do this when baking them. After baking, cut them in half lengthwise. Scoop out the insides as close to the edge of the peel as possible. I mash the insides with my potato masher with butter, sour cream, green onion and salt in a medium size bowl. Heap the filling back into the skins and bake until heated through. Bake at 350 degrees about 30 minutes. Sprinkle with a little grated cheese. Nordic Ware Natural Aluminum Commercial Baker's Half Sheet
Here is the finished product below:

***Bonus-You Can Freeze Potatoes:
Yes, you can freeze your leftover mashed potatoes or hash browns. The ones you buy at the store that are already mashed are so expensive, plus they add ingredients I cannot pronounce.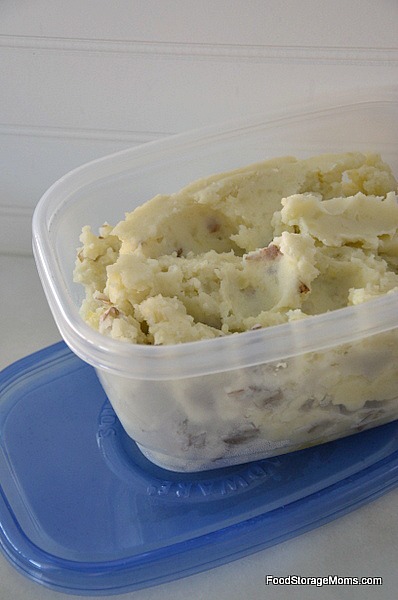 Let me know how you to like to use potatoes, I love adding comments to my posts. Thanks again for being prepared one step at a time.
Readers comments:
Linda: I use leftover potatoes (mashed and roasted) to make yummy potato soup! I add any leftover chicken broth or soup, and onions. Yummy!!
Chris: form the leftover mashed potatoes into patties and brown in skillet with butter.Leftover baked potatoes are good sliced with the skin on and fried with butter.
Christine: save the parchment wrappers from butter to wrap potatoes for baking. Leave a little butter on the paper, put them in the freezer until you're ready to use them.
My mom taught me to poke potatoes with a fork or knife before baking them. Apparently, sometimes the moisture inside the potato expands faster than it can escape through the skin, and they can explode in your oven. Poking holes gives that steam a place to escape.
I love potatoes!!
Violet: My husband is also one of those who could eat 'taters every night. Thanks for the great ideas to try. Here is another quick recipe which I grew up on and was made by my little Hungarian Mom. Very easy and delicious. Since this is one of those family heritage things there really aren't any measurements. It's just "do it as you see right to do so" kinds of recipes.
Hungarian Paprika Potatoes
You will need:
Potatoes, Onion, Some oil, Salt, Pepper, Hungarian Paprika -( If you can splurge get the real stuff – worth it! Comes in a very pretty metal tin), Water
Method:
Peel and cut potatoes into long spears. So, cut in half lengthwise, cut the halves again lengthwise…like chunky steak fries.
Chop the onion ( add more if you like onions – we do)
Set aside.
Add some oil into a heated dutch oven type pot.
Add the onions to the oil, cooking til soft and just beginning to brown.
Add the potatoes and a good sprinkling of salt and some good twists of freshly ground pepper.
Saute and cook the potatoes stirring them as needed until they begin to look moist and beginning to cook.
Sprinkle generously with paprika.
Gently stir/fold these together until the paprika colors the potatoes well and begins to look like it is absorbing into the potatoes.
Pour some water into the pot. Just enough to stop the sizzling sound and you can see it peek just a little thru the potatoes from the bottom.
Turn the heat down slightly, cover and cook until fork tender ( Maybe 10-15 mins or so. Depends on potato variety used.)
When cooked will be tender, fragrant and be in a lovely paprika colored sauce.
Note: Often the potatoes will become quite soft and not maintain the "steak fries " cut. But it doesn't matter. Still so good.
This really can go with anything.
I hope if you try them you will enjoy!
Dawn: 1 cup of leftover mashed potato, mixed with a little milk (just enough to make it spreadable) and use it in place of pizza sauce on a pizza. Top with cheese, onion, bacon, spinach, pepperoni… (whatever you like)… and bake as usual.