My sister Carol from Just Let Me Quilt  is hosting a blog hop and is showing us how to do a virtual holiday cookie exchange today. This is so fun because we can look at all the new recipes on several blogs from other bloggers. Who can't use a new cookie recipe, right? I remember years ago having an annual cookie exchange with friends. We would do the cookie exchange early in December so we could all bring our favorite cookies and the recipes for all those people invited. So, if 20 people were invited you would bring 20 cookies to share and then you would go home with 20 different cookies complete with new recipes. Today we are doing a virtual cookie exchange simply by hopping from blog to blog and getting new ideas and recipes for cookies! Some bloggers are showing their Christmas quilts if they have one or two as well. I have one shown below I made a few years ago. Mine is not as fancy as my sister's but it's my Christmas quilt just the same.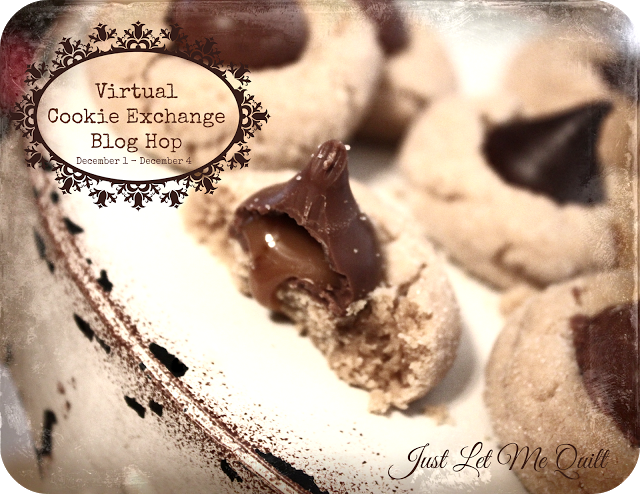 My Holiday Cookie Exchange Recipe:
Linda's Sugar Cookies
These cookies are so moist you can't eat just one or two.
Ingredients:
1 cup softened butter (no substitute)
3/4 cup oil (I use vegetable oil)
2 cups sugar
2 tablespoons water
2 eggs
1/2 teaspoon baking soda
1/2 teaspoon Cream of Tartar
1 teaspoon sea salt
2 teaspoons vanilla
5 cups freshly ground hard white wheat flour or white bread flour
Instructions:
Preheat oven to 350 degrees
Cream all the ingredients together except the flour. Slowly add the flour until blended with heavy duty mixer.
Use a cookie scoop (I used the purple-1/8 cup scoop) and place each scoop about two inches apart on greased cookie sheet. Parchment paper or Silpat mat works great too. Next push the center of the cookies as illustrated below with a small glass bottom or tart pusher but not all the way through. I bake my cookies for 8-10 minutes. (please note*whole wheat takes longer to bake-9-10 minutes). My favorite cookie scoop: OXO Good Grips Medium Cookie Scoop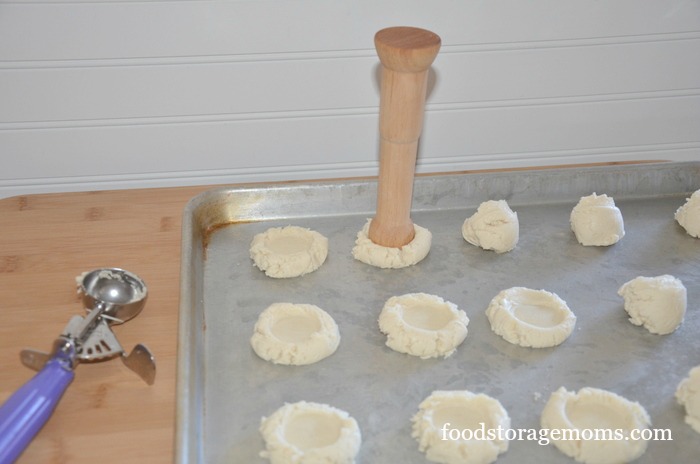 Linda's Cream Cheese Frosting
Serves: Frosts one cake, 36 cupcakes or 4 dozen cookies
Ingredients
1/2 cup butter-softened
1-eight ounce package cream cheese, softened
3 to 3-1/2 cups powdered sugar
1-2 teaspoons vanilla
Instructions
Cream the butter with the cream cheese and slowly add the powdered sugar to the thickness you desire. Add the vanilla until blended.
My Christmas Quilt
I made this quilt a few years ago and I have matching pillow covers for the couch. I wish you could see the Christmas stockings hanging on hooks, no fireplace mantel here. If you see the picture below you may start singing Jingle Bells today over and over again.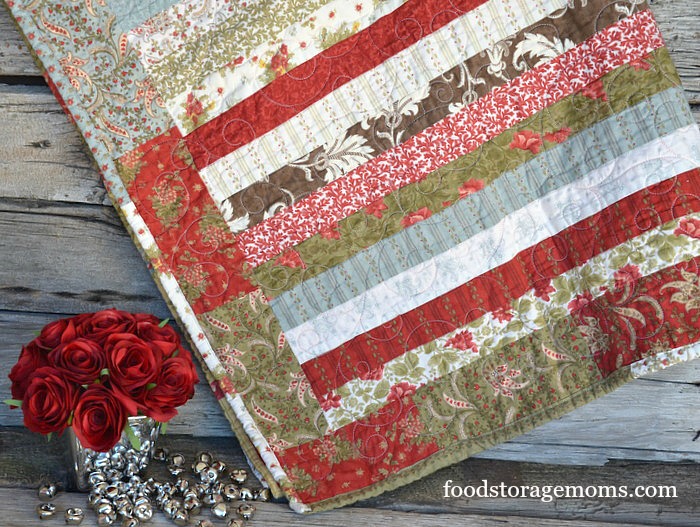 Here are the awesome bloggers involved in this fantastic virtual cookie exchange. Let the cookie exchange begin!
December 1-Cookie Exchange
December 2-Cookie Exchange
Carla @ Creatin' In The Sticks
December 3-Cookie Exchange
Beth @ One Old Goat and Her Little Farm
Theresa @ Bumbleberry Stitches
December 4-Cookie Exchange
I hope you enjoyed this Virtual Christmas Cookie Exchange as much as I did! Bring on the new cookie recipes!